At the beginning of his artistic career Juergen Norbert Fux – the trained butcher – was still smiled at, but the Salzburg native has long since found his place in the art world.
The interest in art had long been slumbering in Juergen Fux. Finally, in 1998, the native Anifer bought canvas and paint. His first works were acrylic paintings and his first studio was the balcony. A new opening of a youth hostel in Salzburg gave Fux the opportunity to exhibit his works for the first time. 20 paintings of the now 44-year-old hung in the building and all of them could be sold by the hobby artist of that time. This small success motivated the trained butcher and Fux began to experiment with different materials such as glass, steel or plastic.
Photo object art
From 2004 the artist specialized in photography. He mainly created portraits, which were printed on glass and plastic carriers. From the very beginning, prominent sportsmen and women like Felix Gottwald or Ludwig Paischer made themselves available. Because of these works, Fux became part of Salzburg's bid for the 2014 Winter Olympics in 2007 and a year later Salzburg's cultural ambassador at the Summer Games in Beijing. 2008 was also the year in which Fux finally became independent. "The first years were not easy. More and more people wanted my works, but everything was still in the low-budget range. There were times when I didn't know how to get by," the artist admits openly today.
Action Art
Besides his works, Fux is also known for his art actions. It all began in 2006 during the artists' festival "Kontracom": Anifer turned a Peugeot upside down at Mozartplatz and mounted a wooden tail rotor on it. The "Hubschraubääär" protest action was about the Russian helicopter of the Italian artist Paola Pivi, which was set up on Residenzplatz. Other projects of the artist included the "Festival Hunter", the "Soizburger Stierwascher" or "ARTenschutz". The art project "ARTenschutz" in particular attracted a lot of attention in 2013, when Fux spent a week in an enclosure at Salzburg Zoo. Through this unusual action, the self-taught artist brought the topics of environmental protection and species conservation back to memory.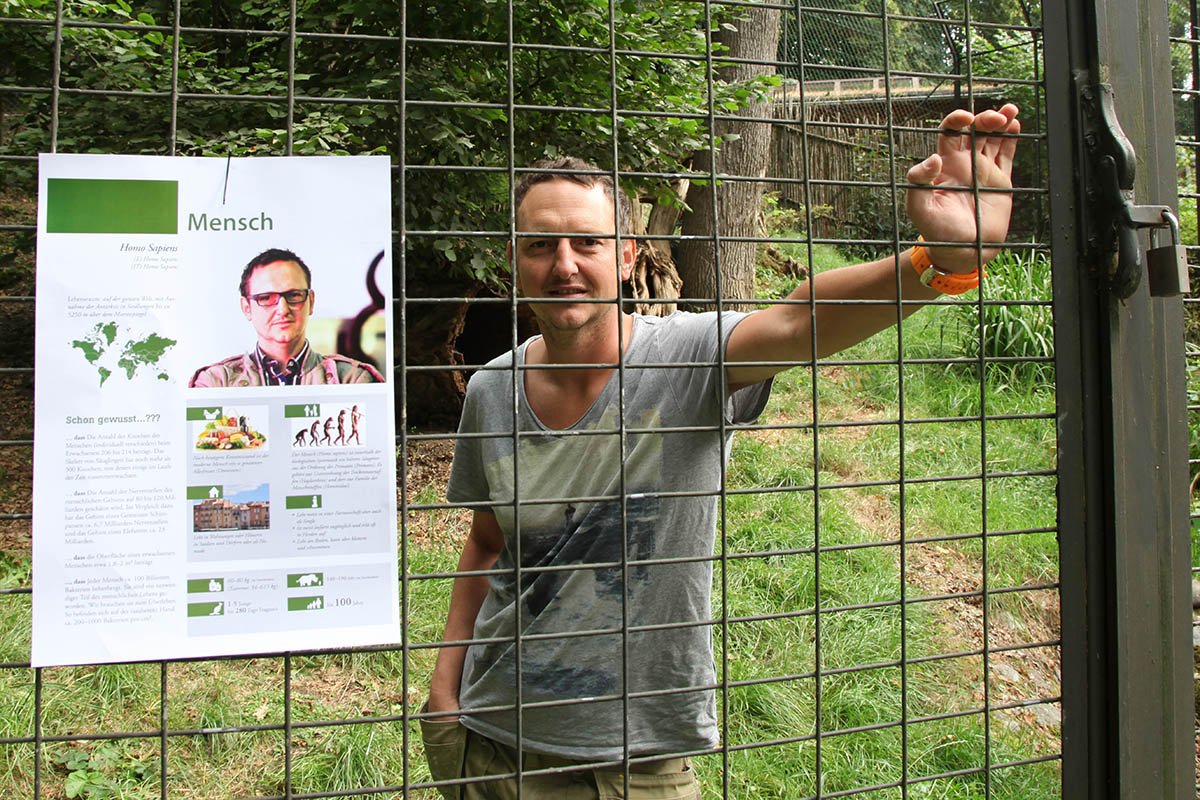 Leatherart
His former profession also inspired Fux to create an artistic connection between humans and animals. Already in 2010 the artist presented a short film entitled "Kuhzifux". The film shows how a portrait is created from a living cow, printed on the skinned skin of the cattle. With "Leatherart" Fux now goes one step further and prints not only on cowhide but also on horse skin. "It's something quite extraordinary, because there is no one who can offer photo-realistic prints on leather in such high quality," says Fux. The Anifer has had this elaborate printing process patented worldwide. The 44-year-old aims to make a name for himself in the art world with "Leatherart". "I find myself in an art niche. Every artist is known by a style and I want to be the type of person associated with leather," explains Fux.
Interested in further lifestyle articles? Click here!