The 4*s Hotel Post am See is located directly at the beautiful Achensee in Pertisau. The ideal place to explore the area or to spend a relaxing time at the lake or pool.

The Achensee is Tyrol's largest lake. It is over 9 kilometres long and together with the Achental valley forms the border between the Karwendel mountains and the Brandenberg Alps. Due to its location at over 900 meters, the water temperature rarely exceeds 20° Celsius. During our stay at the Hotel Post am See at the end of July we were lucky to have wonderful summer weather. A swim in the Achensee was a welcome cooling off.
The Hotel Post am See is located directly on the lake promenade in Pertisau and has its own lake bar and lake access for hotel guests only. The landing stage of the ferry is also only a few steps away. This means: the location of the family hotel is perfect.
The rooms:
We (2 adults, 1 child) were accommodated in a double room comfort during our stay. The rooms were large, modernly furnished and with a view of the mountains. We also had a huge balcony. But extremely important for me: the bed was very comfortable.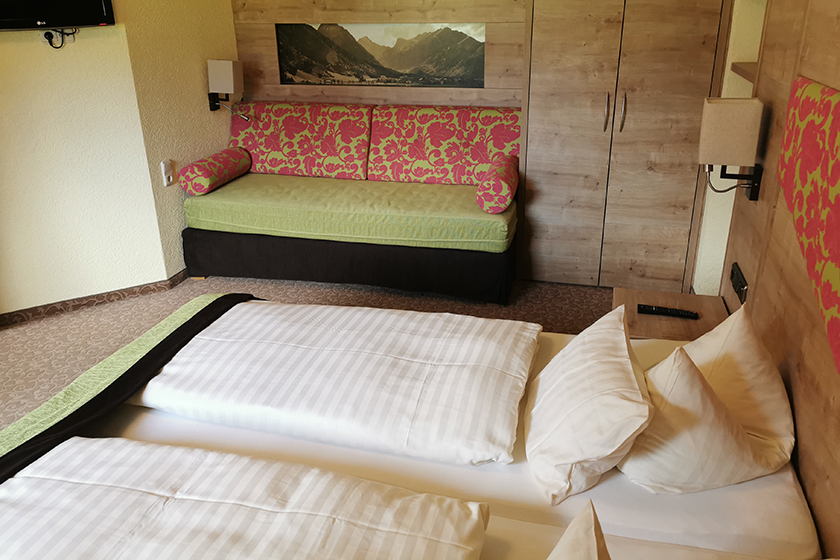 The SPA area:
The Hotel Post am See has a 1.500 m2 Vitarena Panorama SPA. In addition to many wellness treatments, the Finnish sauna and the bio-wood Arolla pine sauna offer a welcome relaxation after a varied day. The indoor pool and the relaxation area are very modern and a highlight especially on cold days. But with outside temperatures around 30° Celsius we spent most of the time at the outdoor pool and watched the paragliders starting from the Karwendel.
The restaurant:
Our table was located in the modern part of the restaurant. Due to the Corona pandemic we had to wear a protective mask and disposable gloves during the buffets (breakfast, salad, dessert and children's buffet). This was annoying, but served to protect the guests and the employees. The breakfast was always rich and good. The dinner usually consisted of a 5-course menu, where you could choose the soup and the main course (meat, fish or vegetarian).
Conclusion:
Beside the fantastic situation right at the lake, we were impressed by the friendly service – specially at the reception and in the SPA area. Also, when we had forgotten clothes in the room at the time of departure, they were immediately sent to us by mail – free of charge. The rooms were convincing, the food was good and much and the SPA area was also top. Thus, those who plan a holiday in the region at the Achensee are in good hands in the 4*s Hotel Post am See.
Here you can find more Hotel Checks!
And here you can watch short videos about the different holiday destinations!
This article was created in cooperation with the 4*s Hotel Post am See.