The Emirate of Qatar is still completely free of tourists, as most visitors are transit travellers and stay in the country only for a short time. But I took a look at what the desert state has to offer.
Doha, the capital of Qatar, can be reached from Munich in a good five and a half hours. I fly with Qatar Airways and the time in the Boing 787 "Dreamliner" passes very quickly – no wonder, there is more than enough room for your feet and the entertainment system is awesome. During the landing approach you can guess what to expect in Doha: Sun, sand and skyscrapers.
Takes some getting used to
Doha is the heart of Qatar and a mixture of old and new. On one side is the historical part of the city with the "souq" and opposite is the new centre with skyscrapers, shopping centres and office complexes. Strolling leisurely along the street doesn't make sense here: cafes, restaurants or shops can only be found in the shopping malls. Thus, I walk through the oldtown. It quickly becomes clear: Western women are stared at as if they were aliens – even though their shoulders are covered and their pants are long. As a European, I attract attention, but nothing more.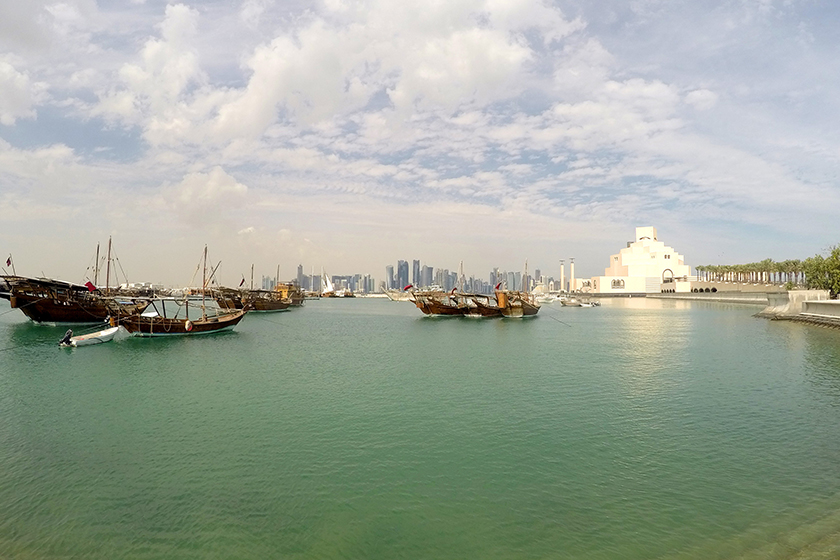 Flight from the City
After one or two days I have had enough of the city and I decide to do a desert tour. With the jeep I go to the south of the country. I pass huge oil refineries and natural gas factories before my driver stops at the edge of the desert. Here I have the opportunity to ride a camel. Well, after two minutes on the leash the fun is over. But it gets funny a short time later when we are riding through the dunes in a jeep. A few times I have the feeling that the car would have to tip over at any moment, with such an inclined position we drive. But luckily we arrive safely at the Bedouin camp. The day ends with a sunset in the desert and dinner at the campfire.
Air to the top
A highlight in Doha is certainly the "Souq Wasif market". The narrow alleys wind their way through the old town like a labyrinth and it is quite possible to get lost. Also the promenade "The Corniche" and the Museum of Islamic Art are worth a visit. The excursion into the desert is a welcome change, but the price-performance ratio is not quite right. I draw my conclusion and find that two or three days in Doha are currently enough to visit the most important sights and get a first impression of Qatar. But the emirate still has a lot of work ahead of it if it wants to become a tourist magnet.
Want to read more about travelling. Check this out!